Marine Warehouse Ltd, UK Lifejacket Store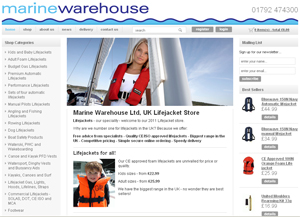 Postal address and company information:
Marine Warehouse Ltd,
Unit 2 Fishmarket Quay
Swansea Marina, Swansea
SA1 1UP
**Do not use Royal Mail to post parcels to us that contain gas cylinders**
Marine Warehouse celebrates twenty three years of mail order in 2021!
Company number: 05152483
Vat number: GB840336841
TELEPHONE (9am-5pm Mon-Fri)
01792 474300
Callers
January 2021, our retail store is currently closed to the public in line with Welsh Government Covid-19 Guidelines.
For directions to our Swansea office see our google place page: Marine Warehouse Directions
Email
We answer emails very quickly, 1 hour is our target during the working week and 3 hours outside of these times. (yes - we reply during evenings and weekends!)
Email us at sales@lifejackets.co.uk
Alternatively you can fill in our email Enquiry Form - for a quick reply!
Lifejackets for all!
Our European CE - ISO approved foam lifejackets are unrivalled for price or quality.
Child sizes - from £29.99
Adult sizes - from £49.99
We have the biggest range in the UK - no wonder they are best sellers!
Our free information pages will answer just about every question with regards lifejackets!
There is a whole section covering each specialised area of boat safety; dog lifejackets, anglers vest or fishing waistcoats, comparisons against our competitors lifejackets, details on CE approval of lifejackets, lifejacket servicing, transporting life jackets on aircraft, a kids section for help with a life jacket for your baby, toddler or small child, our accessories area for a life jacket harness, light, rearm kit, co2 cylinder or lifeline, and even a short history of lifejackets!
Featured Products
Limited stock - order while we have them!
Launch offer - new colour - Save £30!
Mailing List
Sign up for our newsletter...
Best Sellers
Secure Shopping