Rowing Lifejackets
Discounts for clubs
Clubs, schools and universities involved in rowing may be able to obtain discounts when purchasing rowing lifejackets.
For a comprehensive quotation simply email our lifejacket specialist via our contact form.
We reply to emails very quickly, even out of hours and over weekends.
---
Rowing lifejacket specialists
Rowing is a sport where cox's opt to wear lifejackets.
Many lifejackets that are suitable for other water based activities such as yachting are simply not suitable for rowing.
Thats why we stock a range of lifejackets specifically designed for rowing.
The key factors to consider when selecting a rowing lifejacket are:
1. Weight
2. Comfort
Our 'superlight' rowing lifejacket weighs in at just 690g - which is half the weight of a regular yachting lifejacket.
Its also designed for comfort too being compact and having a softer webbing belt.
Rowing on rivers, lakes and the sea
With 150 Newton's of buoyancy our rowing lifejackets all conform to European standard EN 396. This means its officially classed as a lifejacket because it turns you into the upright position once in the water.
Perfect as a rowing lifejacket.
14 day approval on all purchases
Purchase in confidence. The Marine Warehouse understand mail order and offer a 14 day approval on every purchase.
Should you not be happy for any reason we will refund you in full, without question.
---
---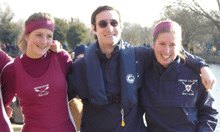 Lifejackets
For cox's lifejackets suitable for use in rowing boats choose the Marine Warehouse.
---
Rowing lifejackets
We stock a comprehensive range of lifejackets suitable for rowing.
Many are so light that you will hardly notice you are wearing one!
The Marine Warehouse ship next day within mainland UK and orders can be placed online with credit and debit cards via our secure servers.
---