Servicing Lifejackets
Maritime and Coastguard Agency Approved.
Marine Warehouse hold service certificates for all the major lifejacket manufacturers in the UK, including Crewsaver, Bluewave, Baltic, KRU, Mullion, Marinepoool, Ocean Safety, alongside being qualified to service the smaller manufacturers lifejackets like Harveys, Superlight, XM, Plastimo, Hardy, Englands, Spinlock, Challenger, Seago, Parmaris, and Seapro.
Our service centre is inspected and approved by the UK Maritime and Coastguard Agency.
Servicing of your Gas Lifejacket
Service recommendations are as follows:
Commercial use, including leisure boat hire, Schools and Universities: lifejackets should be serviced every 12 months by a qualified agent.
Leisure use: It is now recommended lifejackets should be serviced yearly.
The Marine Warehouse will be happy to arrange an approved service for you, please email for latest prices and lead times.
Care of your lifejacket
Your lifejacket will provide many years of service, provided it is cared for correctly.
Generally lifejackets should be cleaned with a good quality mild detergent in cool water. Rinse well with clean water and allow to dry naturally. Sponge off contaminants such as oil or diesel immediately with clean water.
We advise the rinsing with fresh water of buoyancy aids such as water ski vests after immersion in salt water.
Your lifejackets fabric has protective coatings, these will be damaged by proprietory cleaning fluids, thinners, spirits or similar substances.
Automatic lifejackets can be comprehensively cleaned, instructions on how to do this are included in your owners manual. Briefly automatic lifejackets can be stripped to their basic components, the outer 'pouch', the Co2 cylinder and the inflating bladder or 'stole'. Pouches can be washed by hand with a mild detergent, stoles being cleaned by sponging with pure soap and rinsing with clean water. The stole should then be inflated orally and air dried. For information on rearming your lifejacket see our page on Automatic inflation devices.
Never use your lifejacket as a pillow or cushion. Many automatic lifejackets operate by a chemical process with water, as such they are prone to inflating if stored incorrectly. Always store in dry conditions, if wet after use hang upright in a warm place to dry. Never when wet, place straight into storage without drying!
Inspecting your lifejacket
Regularly inspect your lifejacket for wear and tear. Follow the care procedures as described in your owners manual.
Co2 cylinders should be hand tightened only, a small drop of loctite screw thread may be applied as necessary. Only use original rearming kits, these are available from The Marine Warehouse by mail order, or any good chandler. Spare parts are available for all models, please email for details.
---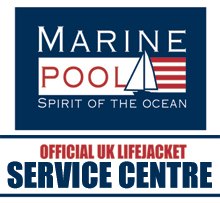 Lifejacket Service
The Marine Warehouse are service agents in the UK for Marinepool lifejackets. This covers the brands, Compass, Seapro and Marinepool.
Servicing can cost as little as £12.49 ex vat.
Please call our service centre on 01792 474300 for an estimate on your lifejacket.
---
Rusty co2 cylinders?
Lifejacket co2 cylinders can go rusty for a number of reasons, but inferior cylinders and those exposed to sea water, are more prone to rust.
The picture shows a rusty cylinder alongside a new cylinder.
Replace rusty cylinders only with our best quality cylinders!
---
Lifejacket information
The information within these pages is provided to help you service and care for your lifejacket. For detailed instructions for your own lifejacket always consult your owners manual or approved distributor.
Our lifejacket store contains detailed information about the features of each lifejacket, have a look and compare!
---