Home Delivery
UK mainland delivery from FREE
Description
Bluewave lifejacket - with a tough but comfortable fabric cover. Manufactured in Europe.
This Bluewave lifejacket weighs in at just under 600g. Features a velcro closure, making it easy to check and maintain.
It offers manual inflation, via a pull toggle, through the very latest British UML Micro inflation system. It has a 33g CO2 cylinder, plus the facility to inflate or top up air via an oral inflation tube.
The Bluewave gas lifejacket features a high cut which allows good freedom of movement for day boating. In a test of 10 of the best lifejackets on sale - this Bluewave lifejacket was voted the most comfortable to wear by Motorboat and Yachting Magazine.
With 150 Newton's of buoyancy the Bluewave 150N lifejacket conforms to European standard EN ISO 12402-3. Officially classed as a lifejacket because it turns you into the upright position once in the water. This lifejacket is recommended for use inshore and coastal use and can also support the user in foul weather clothing. It can be used in either a fresh or saltwater environment.
Approximate weight 650g.
Sizes Available:
One size suits persons of 40kg and above. Max Chest 56"
Colours Available
Black
Customer Reviews
By
John Joyce
on
6th October 2019
"Excellent light weight product I purchased for my fly fishing from boats. Service from marinewarehouse was excellent and quick with Emma efficiently sorting my key board mishap. Thanks "

By
Helen
on
4th September 2019
"Fast delivery, quality product as described."

By
dougie foote
on
26th August 2019
"First class product and service "

Product Features
Age Group
Adult

Colour
Black

Max Weight
One size suits adults up to 115kg

Size
Adult

You might also be interested in...
---
---
---
People who bought this also bought...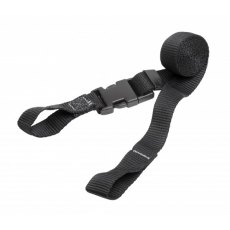 ---