Home Delivery
UK mainland delivery from £4.99
Description
Bluewave lifejackets are designed to make your child want to wear their lifejacket. This new design features a black outer cover.
This Bluewave automatic inflating lifejacket is designed for the smaller sailors amongst the crew and has all the features of the adult automatic jackets.
It offers both automatic and manual inflation, through a British 'United Moulders' system, with a 24g CO2 cylinder. It also has the facility to manually top up air via a tube.
This jacket is suitable for inland, coastal and offshore use and has a large enough belt to allow for foul weather clothing. Designed to be comfortable for kids to wear it is both lightweight and compact allowing good freedom of movement. It is designed to last and will fit your child from age 3 to around 12 years. The inflating bladder is bright yellow in colour with solas searchlight reflecting panels. There is also a whistle attached by a cord to attract attention.
Will work in fresh or saltwater! With a coated easy to clean outer cover this jacket will provide many years service. Adjustable crutch strap prevents your child falling out of the jacket and aids recovery from the water.
With 150 Newton's of buoyancy this lifejacket conforms to European standard EN 12402-3. Officially classed as a lifejacket because it turns you into the upright position once in the water. This lifejacket is recommended for use offshore and in foul weather clothing.
Approximate weight 750g.
Sizes Available: One size fits weight range 15 kg to 40 kg, roughly 3 -12 years in age.
Colour: Black
Made in Europe
Customer Reviews
By
J Gane
on
16th August 2022
"Good quality life jacket at a good price. So helpful when I had a delivery issue. TQ "

By
James Hale
on
11th August 2022
"Excellent"
By
S.Scott
on
25th July 2021
"First class seller of top class goods. Totally recommend Marine Warehouse."

By
Philip
on
22nd July 2021
"Unbelievable Service - 1st Class. Ordered one day delivered the next. This is what 'Good looks Like' Great experience. "

"Bought this for my 5 year old grandson. He loves the pirate logo, which was an extra tener, but it does mean he will wear it ????????. Well made and a good fit, which is very important. Quick delivery"

By
Bill Morrison
on
27th May 2020
"I am really impressed with the speed of delivery to Ireland from Marine warehouse. Well done folks. My grandson Adam loves being a pirate for a day on the lough."
By
mymanfro@yahoo.co.uk
on
17th September 2018
"little boy loves it"

By
Steve Cressey
on
19th June 2016
"Great products and just what we were looking for safe yet unobtrusive. Kids love them."

By
Chris Nel
on
21st July 2015
"This life jacket was bought for my 6 year old grandson. He was delighted with the product and had to be persuaded to take it off. Thankfully, I can't review its performance but it appears well made and the life-line ring is invaluable as he is now allowed to explore the decks in light weather, the tether providing a fourth point of contact."

By
simon crosskey
on
5th August 2013
"very pleased.qiuck delivery and packaged well.will deffo use you again.many thanks."

By
Andrew
on
27th February 2013
"Just a note to let you know that the lifejackets arrived safely today - everything as expected. Thank you again for wonderful customer service. The communication surrounding the order was first-class and I am more than happy to recommend Marine Warehouse for their sailing equipment needs. "

By
Rebecca Wells
on
29th June 2012
"Thank you Marine Warehouse. My son loved the pirate motif on this jacket which meant that he enjoyed wearing it without kicking up a fuss. Great idea for a childrens lifejacket - he felt like a real life pirate!!"

By
S Armstrong
on
24th March 2012
"Simply good service and prompt delivery"

Product Features
Age Group
Children from age 2.5 years and up

Colour
Black

Max Weight
range 25-40kg

Size
Child

Data Sheet

Data Sheet
You might also be interested in...
---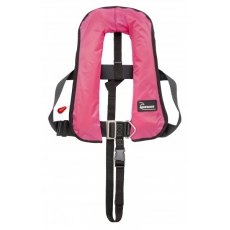 ---
People who bought this also bought...
---
---
---
---
---