Home Delivery
UK mainland delivery from FREE
Description
This premium quality foam lifejacket from Swedish manufacturer Baltic is available in five children sizes . Designed to be comfortable for children to wear, it is lightweight and allows good freedom of movement. It benefits from split foam panels which allows the lifejacket to mould to your childs body. With a lay flat collar, this lifejacket provides the most tailored fit of any childs lifejacket. This makes for a very comfortable fit.
This jacket is suitable for freshwater, inshore and coastal use. Ideal lifejacket for universal water safety applications.
Key Features
Fixed foam buoyancy of 100N
Integrated adjustable belt with abs plasitc buckle
Single crutch strap
The two smallest size are equipped with a beaver tail seat with crutch strap for extra comfort and safety
Made of a comfortable soft touch fabric, that is kind to skin and hardwearing.
Sturdy plastic zip, whistle and retro reflective patches.
Approximate weight 550g.
With 100 Newton's of buoyancy this lifejacket conforms to European standard ISO 12402-4. Officially classed as a lifejacket because it turns you into the upright position once in the water.
We also stock larger sizes, see our adult lifejacket section!
Approximate weight 550g.
Customer Reviews
By
Caroline
on
21st June 2022
"Great product, my 5 year old insisted on testing it out right away so I can confirm that it supports him nice and high in the water with his head well supported and he felt very safe. The grab handle allows him to be lifted up easily and confidently and there is plenty of room for adjustment to ensure a good fit. Also not too bulky which is good as he wants to wear it everywhere and he can move him arms and shoulders freely for paddling and scrambling."

By
Frank Wilman
on
23rd August 2020
"Purchased 2 children's Baltic life jackets - great produced and excellent service"

By
Mary-Ann
on
16th August 2020
"Really fantastic bit of kit - lots of space to adjust, really well made and comfortable for our kid. The other lifejackets we were looking at were up to 20kg weight limit, which is tricky as he'd have grown out of it too quickly but equally you can't let them grow into safety equipment. The fact that this fits 15-30kg means that this should last our little one a long time. Definitely worth the higher price. AND - it's got a crotch strap and the all-important grab handle. We're delighted."

By
Jason
on
5th June 2020
"Excellent service and product"

By
Kristopher Parry
on
11th July 2016
"Really impressed, not too bulky to the point our 2 year old insisted on wearing it all day at home. Fits snug with plenty of adjustment and has that all important grab handle. "

By
J Gorton
on
23rd March 2016
"Really good quality. Great fit for 10 year old. Super efficient service. Thanks"

By
Keith Mckenzie Carlisle
on
17th July 2015
"Excellent Speedy Delivery. Fantastic Product. "

By
Tim
on
1st February 2015
"Great life jacket for my boys. One is 4 and the smallest is 2 and a half. Ordered the 15-30kg for both as the little one is just 15kg and fits great on both. They have not fallen in the water with them so can't comment on that, but hopefully they don't."

By
Roxanne Cole
on
2nd September 2014
"I contacted the site owners before buying as I was unsure about which size I should choose for my almost-4-year-old who is 13KG. They recommended the 10-15KG and said that this will last us for a while. I have the life jacket now and very pleased and i think it will last a few years (my daughter is a slight build). It is easily adjustable and I am very pleased with my purchase and the helpful staff here. I am presuming that it floats ;-)"

By
Keiran Jones
on
7th November 2012
"Such an easy to use and fit lifejacket. Easily adjusted and comfotable"

Product Features
Age Group
Children from age 2.5 years and up

Colour
Orange

Size
Child

You might also be interested in...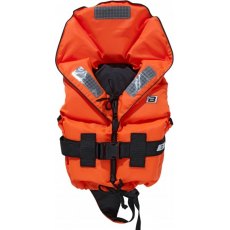 People who bought this also bought...
---
---
---
---
---