Harveys Lightweight Plus Automatic Gas Lifejacket - The Best Fishing Lifejacket On Sale In The UK!

33 reviews

In stock
Home Delivery
UK mainland delivery from FREE
Description
Harveys Lightweight Plus Lifejacket - Simply designed to be a lightweight and easy to wear angling lifejacket.
Many gas lifejackets feature hard harness type webbing and stainless buckles, features which are unnecessary on an angling lifejacket.The Harveys Lightweight Plus lifejacket features military grade cordura fabric, soft webbing and a quick release ABS plastic buckle which makes it light and comfortable even when worn with light summer clothing! This lifejacket also features a neoprene collar for added comfort.
Added features include a detachable crutch strap and fly holder patch.
This Harveys Lightweight Plus lifejacket weighs in less than 800g.
It offers automatic inflation, through the very latest British UML-5 inflation system, it can also be inflated via a pull toggle. It has a 33g CO2 cylinder, plus the facility to inflate or top up air via an oral inflation tube. It will inflate automatically when completely submersed in water.
Designed to be comfortable to wear, it features a high cut which allows good freedom of movement for wading, fishing or boat use.
With 150 Newton's of buoyancy the Harveys Lightweight lifejacket conforms to European standard EN ISO 12402. Officially classed as a lifejacket because it turns you into the upright position once in the water. This lifejacket is recommended for use inshore and coastal use and can also support the user even in foul weather clothing. It can be used in either a fresh or saltwater environment.
Weight Less than 800g.
One size adult - adjustable up to 52 inch chest - fits all adults and also children from around 12 years
Colour: Olive
Customer Reviews
By
T savage
on
21st August 2023
"Excellent product at a good price and quick delivery couldn't ask for better service "

By
Andy
on
31st July 2023
"Life jacket is good quality, easy to fit, a little bit heavier than I imagined, but still lighter that sea jackets I have used, fly patch is a nice touch, it is a very good purchase, which hopefully I will never have to use. I would recommend this jacket."

By
Ronnie McQuade
on
16th March 2023
"Good communication and information from Marine Warehouse prior to purchasing the life jacket. A good looking product well packed and prompt delivery. "
By
Ken Brown
on
11th September 2022
"The life jacket is well made and very comfortable to wear, the fly patch is a nice touch it is ideal for fly fishing. "

By
Karen Clark
on
31st August 2020
"Yet to be truly tested (fortunately), but quality is excellent. Am delighted."

By
Joost Smeele
on
13th August 2020
"Excellent service. Sterling quality. British made. I forgot it was there....till I slipped! Inflated so fast I only got one leg of my waders wet! Don't step into the river without one."

By
Stephen
on
1st July 2020
"Delivered very quickly well packaged, haven't tried it on the river yet hopefully i won't need it "

By
Anthony Plummer
on
3rd June 2020
"Fabulous..thankyou ..will always do my fishing business with yourselves"

By
Terry chippendale
on
20th May 2020
"Great product delivery was spot on worth every penny "

By
Terry chippendale
on
20th May 2020
"Great piece of kit worth every penny "

By
Alistair Nicholls
on
2nd February 2020
"High quality product, Easy adjustment to fit, comfortable, unobtrusive. Hope it's never really activated! Quick delivery too."

By
Martin paddock
on
8th March 2019
"I've not tested it for inflation but the build quality is excellent,very lightweight and easy to wear. Worn over my fly vest I could still access my tools and lower pockets."

By
Kate Jamieson
on
13th November 2018
"Bought this for my husband for river fishing ,he is delighted with it and will now feel safer,hasn't had it on yet as fishing season has closed, i"

By
Peter Moran
on
29th October 2018
"Looks like a quality product. I only ordered the 2vlife jackets a few days ago. Parcel was delivered within two day's and I look forward to using it when fishing next season"

By
Stephen Best
on
11th September 2018
"I?ve been looking at various life jackets, particularly suitable for fly fishing. This Harveys Plus, in my opinion knocks the socks off all the others I had considered. Excellent quality, well constructed and thought out for the angler. The addition of a ? fly patch? just further endorses it?s use and suitability for use in the game fishing world. The fact that it is made here in the UK , just underpins the whole product."

By
Paul Richmond
on
14th March 2018
"Very comfortable - just used it for the first time for over 4 hours when spreading 3.5 tonnes of Microchalk into a lake and never experienced any discomfort. The belt buckle is a bit difficult to undo, but better to be secure than not."

By
Bruce Duncan
on
4th July 2017
"I'm delighted with this item, which matches its description. A quality product, not only is it is excellent value for money, but arrived almost by return p&p free! I have no hesitation in recommending Marinewarhouse's services. for you "

By
davee
on
10th March 2017
"Just the ticket for fly fishing. Paying for good quality. Not cumbersome and short version gives more freedom Cannot put a price on safety. "

By
John Wilson
on
1st November 2016
"Very good product at a reasonable cost."

By
kevin brown
on
25th August 2016
"Service from Marine Warehouse was excelent and product arrived well packaged and within two days. Life jacket is lightweight and looks like very good quality. Very pleased with this item"

By
bob waddell
on
17th August 2016
"perfect - lightweight and fit for purpose. "

By
Steve M.
on
9th August 2016
"Fantastic product at a reasonable, competitive price dispatched without delay. Cannot fault. I'm fully confident of superb after sales service and would fully recommend to anyone considering water safety products. PS: I do not work for or have any connection with this Company!"

By
Flyfisher
on
31st May 2016
"I was looking for a replacement life-jacket to use whilst fishing, having searched the inter-web for a suitable item at the right price, I bought from the Marine Warehouse, their price was the most competitive and they had a full range in stock. I received my item in the next day's post, having now had chance to look at the product and to try it out on the water, all I can say is that it's a great product from a great supplier. I would recommend this life-jacket as an essential."

By
Richard Lindsay
on
25th May 2016
"Excellent service and packaging. The lifejacket feels surprisingly lightweight,, but reassuringly robust. Very easy to put on and adjust. Can't say though how effective it is in action, and I hope it stays that way!"

By
Marco
on
1st April 2016
"Prompt secure delivery First class product as advertised "

By
J.M.Pearson
on
4th December 2015
"Very pleased with the life jacket, excellent next day delivery."

By
Phil Welbourn
on
27th November 2015
"The service is second to none. The lifejacket appears to be just as I'd hoped and I hope to be here to review it again in the unfortunate event that it gets tested."

By
Chris Chedzoy
on
4th September 2015
"once the straps are adjusted, it's easy to get on and off. It's light and comfortable to wear. I'm pleased with it and will wear it always while at sea which I haven't with the standard buoyancy jackets due to their extra bulk."

By
Donald Henderson
on
25th June 2015
"web site was easy to read, ordered the jacket I wanted which was simple to use and received the jacket the next day, very good service, very good product. will use this company again without hesitation."

By
Melvyn Orriss
on
26th May 2015
"Very quick service looks absolutely fine. Very pleased with my purchase."

By
mick clubb
on
7th May 2015
"service excellent,,life jacket very comfortable and light hopefully I wont need to test it any further"

By
Brian.warwick
on
27th October 2014
"Great service Correct goods Quality products"

By
Henry Mooney
on
7th February 2014
"This is an excellent Lifejacket. It is comfortable to wear, does not impede the casting action and comes in it's own zipped waterproof holder. Price-wise it gives excellent value for money when compared to others on the market and I would have no hesitation in recommending it and Marine Warehouse to other Anglers."

Product Features
Age Group
Adult

Colour
Green

Max Weight
One size suits adults up to 115kg

Size
Adult

Data Sheet

Data Sheet
You might also be interested in...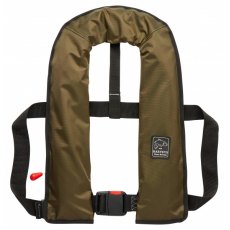 ---
---
People who bought this also bought...
---
---
---